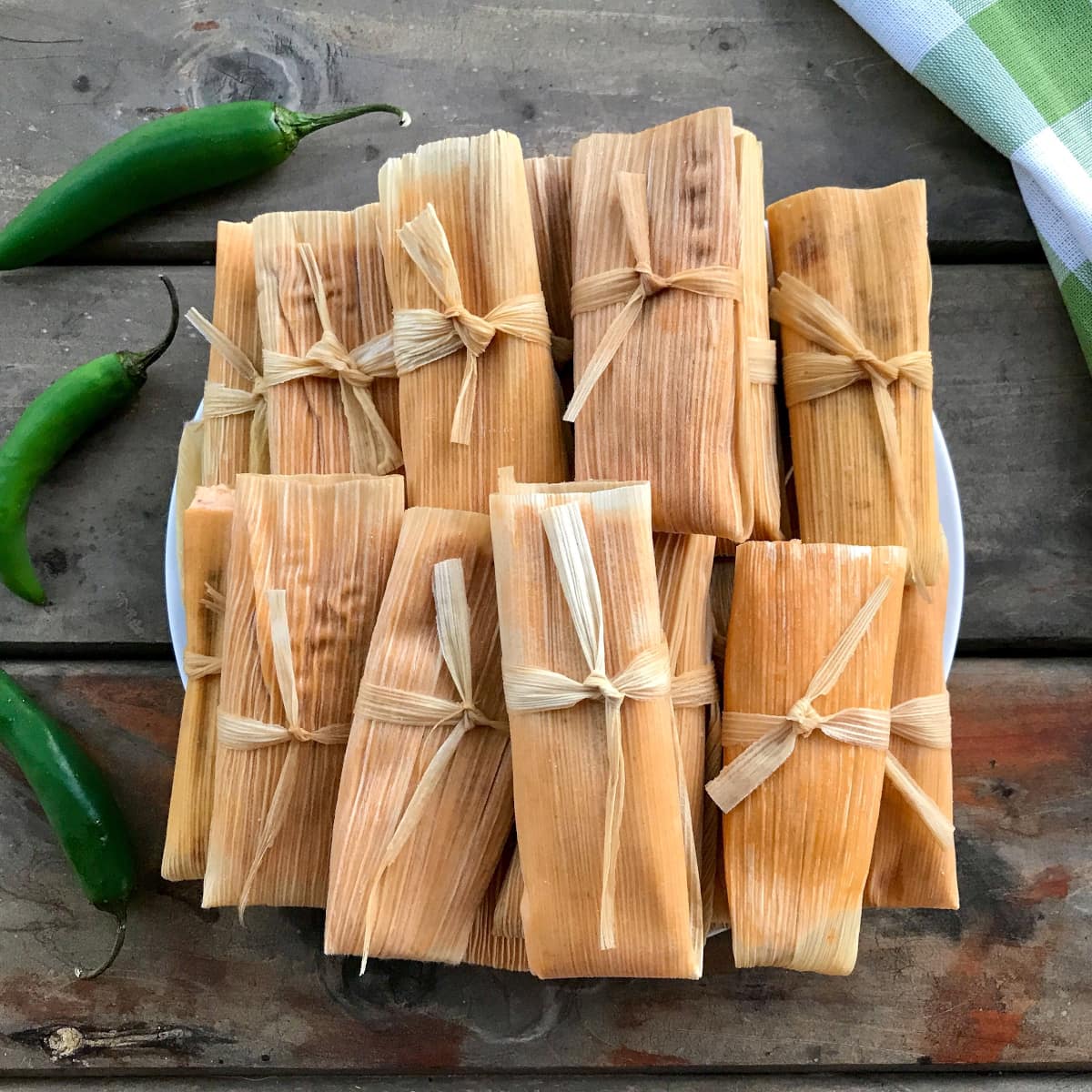 'Tis the season for tamale making and here in Texas everyone and their dog is cookin' 'em and sellin' 'em! I couldn't call myself a true Texan if I didn't know how to make these tasty things!
Thanks to the pressure cooker, you can cook this authentic Mexican dish in over half the time and, boy oh boy, are they delicious! Be sure to check out more of my quick and delicious Instant Pot meals!
The Best Pork Tamales Recipe
This is my personal Instant Pot pork tamale recipe that I have been using for years! The first year I bravely decided to undertake this Christmas tradition, I went on a mission to make the most flavorful, authentic tamales to ever be eaten in America (or close to it).
After tons of research and experimenting, I developed my own recipe using both traditional ingredients and modern-day appliances (hello stand mixer and hello Instant Pot!).
Flavor is very important to me and my family, so bland tamales just won't do! In this recipe, you'll make a red chili sauce (purée) that will be added to the meat filling and masa (dough) for a hint of spice, along with other traditional seasonings. The meat filling and dough are so tender, moist, and melt-in-your-mouth delicious!
If you love Mexican food as much as I do, be sure to also try my Homemade Corn Tortillas and Instant Pot Chicken Tortilla Soup. For yummy Tex-Mex meals, try my Chicken Enchiladas, Chili Con Carne, and Chicken Enchilada Casserole.
Also, check out more of my Instant Pot recipes for the fastest way to cook tender and juicy Baby Back Pork Ribs and deliciously cheesy Chicken, Broccoli, and Rice.
What are Tamales?
Tamales have been around since pre-Columbian times and are thought to have originated in Mesoamerica. The Mayans and Aztecs needed a nutritious, hearty food that was easy to travel with and consume...thus, the tamale was created!
Today in Mexico and America (or at least in Texas), tamales are considered a comfort food and holiday tradition. Families come together in crowded kitchens to assemble these tasty rolled-up goodies!
They are traditionally made with a filling, masa (dough), and wrapped in either a corn husk or banana leaf before being steamed. The filling usually consists of seasoned pork or chicken, vegetables, or beans and cheese. I hear there are even sweet fillings but I haven't been brave enough to try those yet!
Since the assembly process can be quite laborious, it helps to set up an assembly line on the counter or on a table. If you have plenty of friends and family close by, I highly recommend hosting a tamalada (tamale-making party)! Now let's get to partying!
How to Make Red Chile Pork Tamales
Since making this dish can be tedious and time-consuming, I usually divvy up my cooking into two separate days.
Day 1
On the first day, I cook my pork, shred it, and strain the pork's broth into a bowl. I cover both the meat and broth with plastic wrap and place in the refrigerator.
Next, I make my red chili purée and stir 1 cup of it into my shredded pork. Then, I pour the purée into a bowl, cover it with plastic wrap, and place in the refrigerator.
That night, I rinse my corn husks, place them in the sink or a large pot, and cover them with warm water to soak overnight.
Day 2
On the second day, I drain the corn husks and spread them out on a towel to air-dry while I mix the masa dough. (Don't lay corn husks out until 30 minutes before you are ready to use them or they will dry out. It helps to lay another towel on top to keep them from drying out so quickly.)
Next, I lay everything out on the counter in an assembly line and begin to assemble my tamales.
Once finished, I cook them in the Instant Pot and allow them to cool for at least 15 minutes (in order for them to set just right) before serving.
That night, me and my family celebrate all my hard work by devouring as many yummy tamales as possible before drifting off to sleep with full bellies!
If there's plenty left over, me and the kids will load up and distribute bagfuls to hungry friends and family who've gotten wind of what I've been whipping up in my kitchen for the last 2 days!
Cooking Pork in the Slow Cooker
If you don't have a pressure cooker or you need to be away from the house on the day you cook your meat, simply use the Crockpot instead.
Place your pork and the same ingredients listed in the recipe (below) into your slow cooker. Close the lid and set to cook on low for 8 hours or on high for 5 hours (until meat easily pulls apart with a fork). Don't forget to remove and discard your bay leaves after cooking, and don't forget to strain and save your broth!
Steaming Tamales on the Stovetop
This is how I use to cook my tamales until my sweet mother-in-law bought me an Instant Pot!
Fill the bottom of a large steamer pot with water (about 2 cups) until it reaches the bottom of the steamer insert without going over it - you don't want your tamales to touch the water! (If you don't own a steamer pot, you can use a large stockpot instead with a steamer basket inserted inside.)
Stand tamales upright inside the pot with open ends pointing up. Lay soaked corn husks or a damp towel on top of the tamales and close the lid.
Place pot over high heat until water comes to a boil, then turn heat down to medium-low and simmer for 1 hour.
Check if done by removing one tamale (using metal tongs) and trying to unfold it. If the dough cleanly pulls away from the corn husk, they are ready. If the dough still looks wet and sticky, steam for 15 more minutes. Repeat until done.
Let cool for at least 15 minutes before serving.
How to Eat Tamales
When you're ready to devour these yummy rolled-up goodies, simply slide the tie off and unfold the corn husk, allowing the filling to slowly roll out onto a plate. Discard the corn husk (don't eat this, yuck!).
Top with leftover red chili sauce, pico de gallo, sour cream, and/or cilantro. Serve with Mexican rice, refried beans, and chips and salsa. Yum!
Eat them with a fork or pick the whole thing up with your fingers and dig in! You've earned it!
Other Recipes You'll Love!
You can also FOLLOW ME on FACEBOOK, PINTEREST, YOUTUBE, and INSTAGRAM for more delicious, down-home recipes!
Be sure to check out my how-to video in the recipe card below!
Instant Pot Red Chili Pork Tamales
How to make Mexican Pork Tamales in half the time with the Instant Pot! This authentic recipe uses a mildly spicy red chili sauce and fluffy masa to make the best, most delicious tamales that are near to perfection!
Ingredients
Instructions
Notes
How to store cooked tamales:
Place in a ziplock bag, press out all air, and seal. Will keep for up to 3 days in the refrigerator and 3 months in the freezer. (If freezing, allow to cool completely before placing them in the bag and then into the freezer.)
How to reheat in the Instant Pot:
Follow the recipe cooking instructions listed under "Cook Tamales" except only pressure cook on High Pressure for 15 minutes and then let pressure "naturally release".
How to reheat on the stovetop:
Fill the bottom of a large steamer pot with water (about 2 cups) until it reaches the bottom of the steamer insert without going over it - you don't want your tamales to touch the water! (If you don't have a steamer pot you can use a large stockpot instead and insert a steamer basket inside.)
Place tamales inside the steamer basket vertically with open ends pointing up.
Lay leftover corn husks (soaked and moist) on top of the tamales and close the lid. (If you don't have leftover corn husks, you can lay a moist towel over the top of the pot before closing the lid. Be careful not to let the towel touch the burner!)
Allow the water to come to a boil and then turn heat down to medium-low and simmer until tamales are heated through, about 15-20 minutes. (Add an extra 10-20 minutes if reheating from frozen.)
How to reheat in the oven:
Preheat oven to 325°F. Tightly wrap each tamale individually in foil. Place in a single layer on a baking sheet. Cook for about 20-25 minutes until they are hot in the middle.
How to reheat in the microwave:
Wrap each tamale in a damp paper towel and lay in a single layer on a microwave-safe plate. (I usually add 2 Tablespoons of water to the bottom of the plate.) Microwave 1-2 minutes, until heated through. If frozen, microwave on 50% power for about 4 minutes, adding 1 minute at a time until desired temperature is reached.
Nutrition
Serving:
1
serving
|
Calories:
334
kcal
|
Carbohydrates:
16
g
|
Protein:
17
g
|
Fat:
22
g
|
Saturated Fat:
8
g
|
Sodium:
450
mg
|
Fiber:
1.4
g
|
Sugar:
0.1
g
*Nutritional facts are calculated by third party sources and are not always accurate. If you are on a special diet, we highly recommend you calculate these values personally.
Tried this recipe?
Leave a comment below to let us know how we're doing!