Homemade Chicken and Dressing is the holiday dish I look forward to all year long! There's something about this traditional, savory goodness that warms your soul!
This is an old family recipe that is made in true Southern-fashion with cornbread and baked in a casserole dish. This dressing is so moist and savory with a hint of sweetness!
I can remember visiting my grandmother the week before the holidays while she was cooking her famous dressing. The whole house would be full of delicious, mouth-watering aromas! She would always let me help no matter how big of a mess I made.
Dressing vs Stuffing
It's very interesting how this classic holiday dish takes on different forms depending on where you live.
In the South, we call it dressing. It's traditionally made with crumbled up day-old cornbread and baked in a casserole dish that's served beside the turkey.
Northerners, on the other hand, call it stuffing. Typically, it is made with bread (mostly white or sourdough) and stuffed inside the turkey's cavity...hence the word "stuffing".
No matter what you call it, I think we can all agree that the holidays just wouldn't be as yummy without it!
Ingredients
Cornbread - The star of the show! For my dressing, I make cornbread muffins from Jiffy Corn Muffin Mix. I have made my cornbread from scratch in the past but I have to tell you, Jiffy is hard to beat! Plus, the brown crust of the muffin tops hold up better and add more flavor to the dressing than cornbread that's been baked in a dish.
Chicken and Broth - In this recipe, I boil a whole chicken in order to have fresh meat and a rich, flavorful broth for my dressing. If you're running short on time, simply use a cooked rotisserie chicken and a box of chicken broth instead (I have had to do this a time or two).
Vegetables - Chopped celery and green onions are cooked in chicken broth and butter for a savory deliciousness like no other. The aromas that will fill your kitchen are mouth-watering! White onions just won't do. Green onions add a distinct flavor that will not be over powered.
Seasonings - The secret ingredient to this recipe is poultry seasoning! It adds the perfect savory flavor without tasting "herby". No other seasonings are needed except for salt and pepper...simple enough!
Eggs - I'm fortunate enough to have fresh eggs from my chickens. However, if you buy your eggs from the store, I highly recommend brown eggs. The darker yolks add richer flavor!
Butter - Everything is better with butter! In this recipe, it's added to the chicken broth, vegetables, and drizzled on top of the dressing before baking. Yum!
How to Make Southern Chicken and Dressing
Start by cooking a whole chicken in a large stockpot full of boiling water. Then, remove and debone. Save the broth for later!
Shred the chicken in a bowl using two forks.
Now it's time to cook your cornbread muffins!
Allow to cool.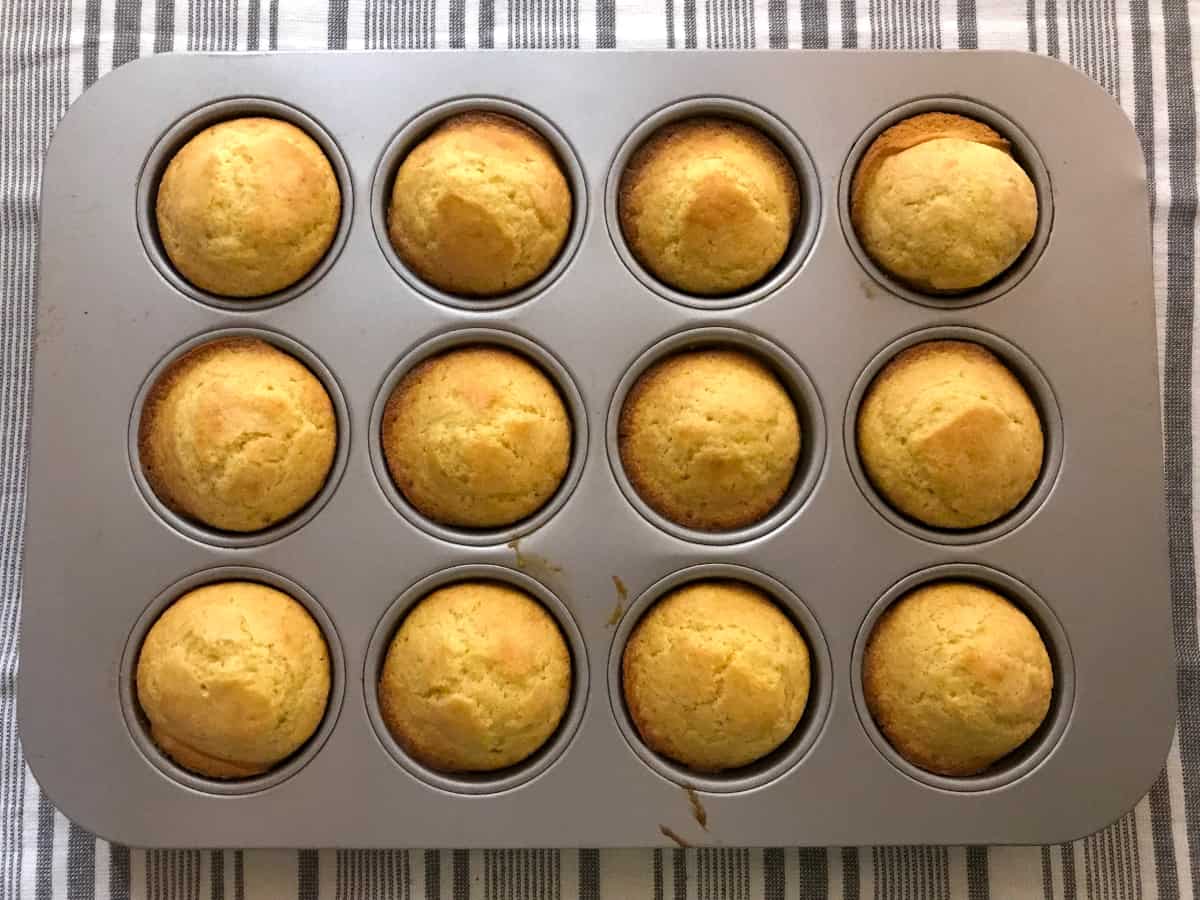 Using your fingers, break cornbread muffins up into large chunks.
Finely chop up celery and green onions. Then, place in a skillet with melted butter and fresh chicken broth. I can smell it now! Yum!
Toss seasonings and vegetables into the cornbread chunks. Then, gently stir in eggs and broth until just incorporated. Don't over mix!
Now pour the mixture into a 9 x 13-inch casserole dish.
Drizzle melted butter on top and bake at 350°F for 45-60 minutes. Dressing is done when only the center jiggles when the casserole dish is lightly shaken.
Serve and enjoy!
You can also FOLLOW ME on FACEBOOK, PINTEREST, YOUTUBE, and INSTAGRAM for more delicious, down-home recipes!
Southern Chicken and Dressing
Cornbread Dressing is a Southern tradition to serve at Thanksgiving and Christmas. This old fashioned recipe is baked in a casserole dish with Jiffy cornbread, green onions, and homemade chicken broth to make the most tenderly moist and deliciously savory holiday comfort food!
Ingredients
Chicken
1

teaspoon

salt

1

teaspoon

sugar

½

stick (¼ cup)

salted butter

1

cube

chicken bouillon

5

pounds

whole young chicken
Cornbread Muffins
2

eggs

⅔

cup

milk

2

boxes

Jiffy Corn Muffin Mix
Vegetables
5

celery sticks

(chopped)

6

green onions

(chopped)

1

Tablespoon

salted butter

1

cup

chicken broth

(reserved)
Mixing it all together
1

Tablespoon

poultry seasoning

1

teaspoon

salt

½

teaspoon

ground black pepper

4

eggs

(slightly beaten)

5

cups

chicken broth

(reserved)

½

stick (¼ cup)

salted butter

(melted)
Instructions
Cook the Chicken
Fill a stock pot ⅔ full with water and place over high heat. Add salt, sugar, butter, and chicken bullion. Bring to a boil.

Add whole chicken to pot. Turn heat down to medium-low for a gentle boil. Cook for 1 hour, until internal temperature reaches 165°F.
Bake Cornbread Muffins
In the meantime, make cornbread muffins by whisking eggs and milk together in a large mixing bowl. Add both boxes of Jiffy Corn Muffin Mix and stir until just incorporated (batter will be slightly lumpy).

Grease muffin tin with melted butter and fill all muffin cups ⅔ full with batter. Bake at 400°F for 15 to 20 minutes, until golden brown. (Muffins are done when an inserted toothpick comes out clean.)

Place on the counter to cool.
Prepare Chicken and Broth
Remove cooked chicken from stockpot using 2 large slotted spoons (the chicken will fall apart). Reserve the broth.

Place chicken on a large plate, remove all bones, and shred. (I only use the breast and wings and save the thighs for other dishes.)

Pour reserved chicken broth through a mesh strainer and into a bowl.
Cook Vegetables
Finely chop up celery sticks and green onions.

Melt 1 Tablespoon of butter in a skillet over medium heat. Add chopped celery, green onions, and 1 cup of reserved chicken broth.

Allow to cook down for about 10-15 minutes, until vegetables are soft.
Mixing It All Together
Place baked cornbread muffins into a large bowl and break into large pieces with your fingers.

Add poultry seasoning, salt, pepper, 4 eggs (slightly beaten), and cooked vegetables. Toss together using 2 large spoons.

Add shredding chicken (about 4 cups) and 5 cups of reserved chicken broth. Toss everything together.

Pour mixture into a greased 9 x 13-inch casserole dish. Sprinkle melted butter on top.

Bake at 350°F for 45-60 minutes. Dressing is done when only the center jiggles when the casserole dish is lightly shaken.

Allow to cool for at least 10 minutes before serving.
Notes
Make Ahead:
I always bake my cornbread muffins the day before I make the dressing and store in a ziplock bag on the counter.
Dressing is so much more flavorful if you make it in advance to allow the flavors to marry. Simply prepare in a casserole dish but don't cook it yet. Wrap in plastic wrap and store in the refrigerator for up to 2 days ahead of time. When ready to cook, uncover and bake.
To freeze in advance, tightly wrap the casserole dish containing your uncooked dressing with plastic wrap and foil. Store for up to 2 weeks ahead of time. Thaw in the refrigerator 2 days before your holiday dinner and then bake the day of.
How to Store Leftovers:
Place leftover dressing in an airtight container or ziplock bag and store in the refrigerator for up to 3 days.
Nutrition
Nutrition Facts
Southern Chicken and Dressing
Amount Per Serving (1 serving)
Calories 278
Calories from Fat 124
% Daily Value*
Fat 13.8g21%
Carbohydrates 22.4g7%
Protein 15.4g31%
* Percent Daily Values are based on a 2000 calorie diet. The nutritional values listed above are approximate. If you follow a special diet, please use your own calculations.
Tried this recipe?
Leave a comment below to let us know how it was!